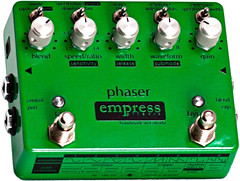 Empress Effects has announced the Empress Effects Phaser, a phaser effect pedal featuring an all-analog signal path controlled by a microprocessor, allowing it to maintain all its character and analog flavor while adding a ton of possibilities for control and adaptability.
Redefining the phaser effect from the ground up, Empress Effects has created a phaser unlike anything else on the market.

Employing a unique VCA based design, the Empress Phaser offers unparalleled signal-to-noise ratio. Choose between 2 stage, 4 stage or an Empress exclusive 3 stage mode; all controllable via tap tempo sweeping through an impressive set of 8 waveforms.
Empress Effects Phaser features
Killer Sound Quality

– The Signal to Noise ratio is around 104 dB.

8 Auto modes

– Envelope follower, center & speed, speed(sine), speed(square), audio sweep trigger, random level trigger, rhythms and direct control

Tap Tempo with Ratios

– Use tap tempo to set the phasers speed; the ratio selection makes fast tempos and triplet based phase times easy.

2 / 3 / 4 Stages

– Select 2, 4 or, an empress exclusive, 3 stages

5 Rhythms

– Rhythms let your phaser boldly go where no phaser has gone before

Ultimate Control

– Control over width, speed, resonance, waveform, and number of stages.

8 Waveforms

– Phase through sine, triangle, asymmetric sine, swung sine, sawtooth, reverse sawtooh, square and step waveforms.

True Bypass

– The Empress Phaser employs true bypass, so you can be sure that it's not affecting the signal when disengaged.

Gain

– Set the output gain of the phaser to match your bypassed signal or use up to 6dB of boost to really drive your preamp

Small Size

– The enclosure measures approximately 4.5″ by 3.5″ by 1.5″, which is delightfully small when considering all the features packed into this unit.

Unsurpassed Connectivity

– The Universal Control Port allows you to connect an expression pedal, external tap switch, control voltage, external audio input and MIDI all using a standard 1/4″ jack!

True Display LEDs

– Extremely responsive LEDs always let you know what the phaser is doing and help you adjust the sensitivity in the auto modes.

45 Day Money Back Guarantee

– If for any reason the Phaser isn't for you, send it back within 45 days for a refund. Read our Guarantee for more details.

Four Year Warranty

– The Empress Superdelay comes with a two-year warranty. Read our Warranty for details. You can extend the warranty to 4 years by simply registering online.

Great Value

– The Empress Phaser is the last phaser you'll ever have to buy. It does everything a phaser can do and more!
The Empress Phaser runs on standard 9V negative tip DC power, but can safely accept up to 18V. It draws about 120mA.
The Empress Effects Phaser will be available to purchase on 14 October, priced at $349 USD.
More information: Empress Effects / Phaser