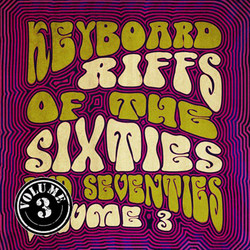 Equinox Sounds has released Keyboard Riffs Of The 60's & 70's Vol 3, a new Midi Keys series pack, featuring 118 MIDI loops by Steve Burton.
'MIDI Keys: Keyboard Riffs Of The 60's & 70's V3' places an emphasis on authenticity and contains some stunning performances from a true keyboard legend. From Soul and Funk through to Rock and Pop, all of the classic keyboard instruments are represented here with loops designed for acoustic piano, Fender Rhodes and Wurlitzer electric pianos, clavinet and organ.

Each loop contains an 8 or 16 bar original chord progression that could easily be used as the basic chord structure for a song.

Some of the loops also come with different variations upon the original theme so you are not just repeating the same loop, and others also have chord changes that could be used as a bridge section or verse etc. They have also included some loops for synthesizers, monophonic and polyphonic and some synth bass lines. All files are named with the instrument used and also the tempo and key info.
The MIDI pack costs $29.95 USD.
More information: Equinox Sounds