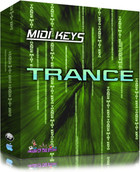 Equinox Sounds has released MIDI Keys: Trance, a downloadable MIDI Loops collection from it's content partner, Smash Up The Studio.
'MIDI Keys: Trance' features 70 4-8 bar MIDI loops superbly constructed and programmed. The flexibility of MIDI also allows the user to change the key of the riff or the tempo, or even edit the notes themselves to create a truly unique personal musical experience.

Also included in this pack are 3 MIDI construction kits. These kits include every loop used in the production of the demonstration track. So if you wish, you can recreate the tracks in our demo using your own sounds, or just use certain sections and add your own flavors. There are also included the MIDI files for the beats used in the demo.
MIDI Keys: Trance is available as a download for $29.95 USD.
More information: Equinox Sounds