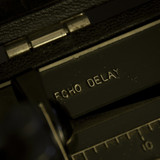 Eric Beam has released Plex, a free tape delay program for Nebula by Acustica Audio.
I have an affection with analog delays. Even more so with grimy tape delays. While wanting just one more for a current project, I created this Program to fill the void. I feel it's my duty to spread the sound & offer this program up freely.
Plex (Tape Delay) features
Vintage maestro echoplex.
24/96 via Lynx conversion.
Requires Nebula Commercial, and increased L FREQD duration to handle the long tails (located on the Nebula MAST page).
Plex (Tape Delay) is available as a free download.
More information: Eric Beam