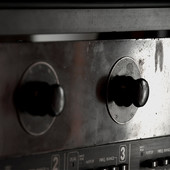 Eric Beam has released RCA/A-iron Line EQ, a collection of programs for Nebula by Acustica Audio featuring the vintage RCA 56E two-channel passive line equalizer and "American Iron" preamp gain stage of the API 312.
RCA/A-iron Line EQ features
Vintage stereo passive program line EQ + Classic American 312 preamp gain stage.
One knob program "tilt" style EQ.
Captured via API conversion @ 24/96 & 24/44100 (both 96k & 44100 programs available).
Ideal for adding highend sheen or de-mudding a lowend heavy mix.
The RCA/A-iron Line EQ for Nebula is available to purchase for $10 USD.
More information: Eric Beam