Erica Synths has announced that it has opened pre-ordering for its new all analog synthesizer. SYNTRX features three highly accurate VCOs and a inspiring new digitally controlled analog patch/mixer matrix.
Since the very beginning of the company, Erica Synths has promoted experimental electronic music, developing instruments that enable musicians to unleash their creativity. When it comes to standalone instruments, one of most encouraging instruments in experimental music was the Synthi AKS.
In the spirit of innovative collaboration, Erica Synths teamed up with engineers from Riga Technical University to develop a synthesizer with a user interface that challenges conventional wisdom in a sound design.
The result is an instrument that will inspire users to explore the sonic universe and travel to previously undiscovered audible realms.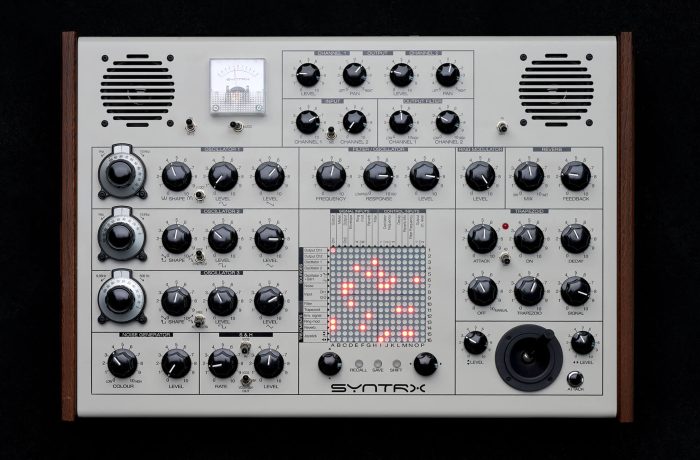 SYNTRX is an all analog synthesizer developed from scratch:
3 highly accurate VCOs that track great over 8 octaves.
Octave switch for the VCO1.
Sync option for the VCO2.
Noise generator with "color" filter.
Resonant VCF.
Ring modulator.
Spring reverb.
ASR/AD looping envelope generator.
Joystick controller.
Input amplifier with adjustable gain.
3 VCAs.
Sample & Hold circuit with an individual clock.
Output signal filter.
Mechanical CV/audio signal level indicator.
MIDI In and MIDI Thru.
Built in speakers.
Dimensions: 309mm x 457mm x 115mm (with the joystick in centre position).
Weight: 4.05 kg.
SYNTRX is available to pre-order now for 2,500 EUR (ex. VAT for EU customers + shipping). The synth will begin shipping to customers in April on a first-come, first served basis. A user manual will be made available on April 25th.
More information: Erica Synths