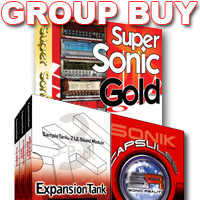 eSoundz has announced the Super Sonic SampleTank Group Buy.
Yes, it is time again for another crazy eSoundz Group Buy! This time we're pulling out 35 different SampleTank libraries in ONE group buy deal!

You can pick 3 downloadable Sonic Reality SampleTank libraries out of 35 choices in addition to TWO IK SampleTank-based plug-ins ALL for as low as just $199! That's over $600 value for an unbeatable price available for a VERY limited time. The group buy starts NOW and ends on June 30th.

Because the plug-ins from the Super Sonic Promo must be registered by no later than July 6th, 2009 we will charge cards as soon as the lowest price is reached of $199 and it only takes 100 people to do that this time!

Don't miss out on this incredible Super Sonic SampleTank deal! Customize your ultimate workstation for the lowest price! It's all conveniently downloadable and flexible to your musical needs. This includes exclusive products you can't get anywhere else! Remember this offer is only available for two weeks so join up today!
Visit eSoundz for more information.