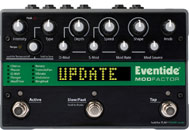 Eventide has announced the release of V3 software for its stompboxes, adding preset naming and output level control to TimeFactor, ModFactor, and PitchFactor.
Responding to requests from customers the world over, Eventide today announced the posting of V3 software for TimeFactor, ModFactor and PitchFactor stompboxes for public beta.

Two significant features have been added to all three stompboxes: the ability to name presets, and the ability to adjust the output level from -20dB to +4dB in 1dB increments on each preset in order to facilitate seamless gain matching. Additional MIDI control refinements have also been added.
More information: Eventide