Plugin Boutique has launched a sale on the Eventide Ultra Essentials Bundle, a collection of three essentials tools that will help you to transform your mixes.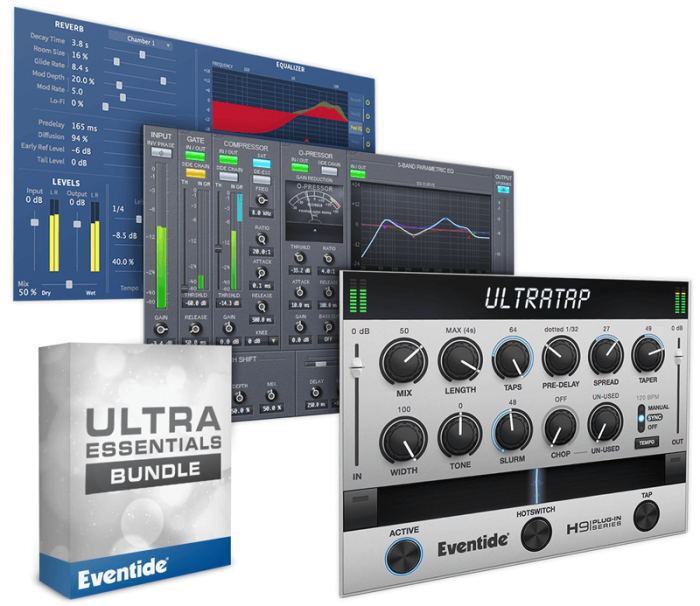 Designed as the ultimate core set of plugins for producers, engineers and sound designers, the Ultra Essentials Bundle features three of our most powerful plugins: UltraChannel, UltraReverb and UltraTap. Whether you are mixing or tracking a record, live sound or post-production, our Ultra Essentials will make everyday tasks easier and fire your imagination.

The bundle comes with more than 600 presets across the three plug-ins, many designed by Eventide artists including Andrew Scheps, Chris Carter, Richard Devine, Sasha, ROCASound, Brian Montgomery, Matt Lange, Colin Newman and many more. Valued at over $500 if purchased separately, bundles are the most affordable way to own Eventide's award-winning tools.
Ultra Essentials Bundle includes:
UltraChannel high-precision channel strip that includes several feature-packed versions of Eventide's legendary effects, all in one plug-in. Whether mixing or mastering, regardless of genre, UltraChannel is the ultimate tool to make your tracks and mixes come to life.
UltraReverb comprehensive reverb toolbox with nine H8000 hardware-derived, reverb algorithms to realistically simulate halls, chambers, rooms, plates and ambience or, taken to the extreme, other-worldly environments.
UltraTap unique multi-tap effect capable of rhythmic delays, glitchy reverbs, huge pad-like volume swells and extraordinary modulation. It's the perfect tool for creating drum fills, vocal choruses, swelling guitar chords and other evolving effects — everything from reversed reverbs to a massed church choir singing a Gregorian chant in Notre-Dame Cathedral!
The plugins bundle for Windows and Mac (VST/AU/AAX) is on sale for only £89 GBP until May 1st, 2018.
More information: Eventide Ultra Essentials Bundle