Orange Tree Samples has released Evolution Sitardelic, a vintage sitar-like electric guitar sample library for Native Instruments Kontakt and Kontakt Player.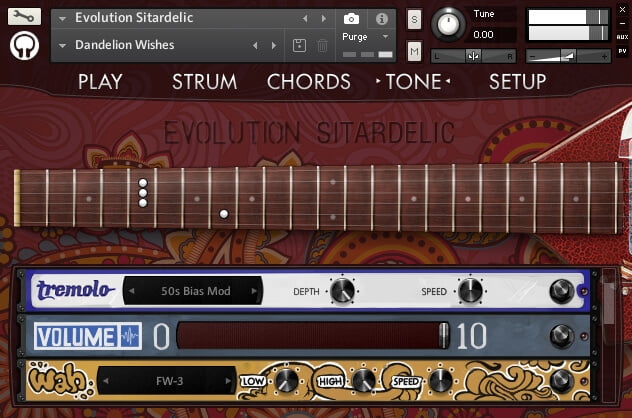 The electric sitar was introduced in the late 60's, imitating the sound of a traditional sitar by using a special bridge and resonance strings. Undoubtedly a specialty instrument, the electric sitar is typically used in classic rock and modern jazz/fusion styles of music. The model we sampled for Evolution Sitardelic has a semi-hollow pine body with a masonite top, Brazilian rosewood fretboard, and classic "lipstick" single-coil pickups. Its full octave of drone strings add extra resonance and body to the tone of the guitar.

We developed this library in collaboration with Rosewood Recording Company, one of Utah's most venerable recording studios. Guy Randle, the owner and recording engineer at Rosewood Recording Company, incorporates analog audio equipment to skillfully sculpt and emphasize the rich tonal qualities of the guitar.

For the sampling session, Guy Randle worked with Rich Dixon, an award-winning session guitarist, international performer, and jazz theory/improvisation educator.
Evolution Sitardelic features
Over 5,200 samples, totaling 4.65 GB of uncompressed samples.
Articulations such as sustains, mutes, natural harmonics, plus special effects such as chugs, scratches, string slaps, and others.
Legato samples for slides, hammer-ons, and pull-offs.
Built-in strum pattern editor for authentic guitar strumming.
Adjustable pick position using our proprietary physical modeling technology.
Multitracking up to quadruple tracking.
Evolution Sitardelic for Kontakt & Kontakt Player is available for purchase for the introductory price of $139 USD until August 22nd, 2016 (regular $179 USD).
More information: Orange Tree Samples / Evolution Sitardelic