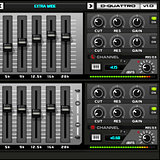 Evopax released D-Quattro, an equalizer VST plug-in for Windows PC.
In total this unit bundles thirty four 2nd order recursive filters with a relatively low CPU usage so the EQ is usable not only for mastering tasks. It utilizes the same multi-buffered technology than D1-A with precalculated value and low noise.
D-Quattro features
17 IIR stereo filters proximate of the analog curve.
Graphic section for correcting usual issues in analog emulations.
2 parametric filters with resonance, +/-20dB, also IIR.
Supported sample rates: 44.1kHz, 96kHz.
Reset function.
Professional dBFS metering.
Peak warning and current gain value display.
Specific versions for SSE instructions.
Control value display.
Overextended 64bit of internal calculation.
Gain amp configurable for each channel.
Linked L+R movement or indepedent..
Animated sliders.
MIDI Learn for most controls.
D-Quattro is available now as a VST effect plug-in for Windows for $70 USD / 55 EUR. A trial version will be available for download soon.
Visit Evopax for more information.