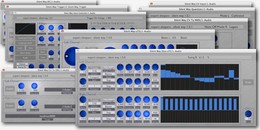 Expert Sleepers has updated Silent Way, the plug-in suite for use with analogue synthesizers.
The plug-ins produce no sound themselves, nor do they process sound – rather, they generate signals to be used as control voltages (CVs), which can be patched into the control inputs of oscillators, filters, VCAs etc. of an analogue system. Also, with the addition of the CV Input plug-in, it is possible to bring CVs from the synth into the computer, for recording or processing.
Changes in Silent Way v1.6.14
Added a Trigger Length control to Silent Way Voice Controller and Silent Way Trigger.
Fixed a bug in the behaviour of Newest note priority mode in Silent Way Voice Controller.
Added Trigger Length controls to Silent Way ES-4 Controller, allowing the 40 independent gate outputs to operate as triggers instead.
Silent Way for Windows and Mac is available to purchase for $49 USD plus VAT if applicable.
More information: Expert Sleepers / Silent Way