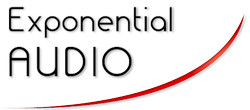 Exponential Audio has announced the release of version 1.4 of the PhoenixVerb and R2 reverb effect plug-ins for Windows and Mac.
Changes in PhoenixVerb / R2 v1.4
Changed the way factory presets are loaded and managed. Startup is now much faster.
Cleared up some problems in deleting and managing user presets.
Fixed a minor issue that caused the wrong button to display in the preset editor.
A few factory presets had been stored with Mix at a different value from 100%. That has been corrected.
A few efficiency gains and speedups.
Slightly smoother drawing of the realtime frequency display
Eliminated some ticks from program change
New memory clearing logic (for relocating) is spread out and less 'lumpy' in terms of processor requirements.
Fixed mono->stereo bypass.
The binary is now 'wrapped' so that license codes can be entered directly.
Added several presets

Phoenix: Plates and Chambers, a handful of large halls and churches. Percussion halls.
R2: Large Hall presets.
PhoenixVerb and R2 are available for Mac and Windows (AU/VST/RTAS/AAX, 32/64bit), priced at $199 USD and $299 USD respectively. A bundle of both is $449 USD.
More information: Exponential Audio