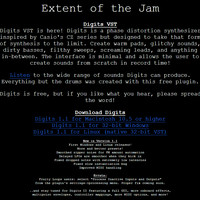 Louis Gorenfeld aka Extent of the Jam has updated the Digits free synthesizer plug-in to version 1.1.
Digits VST is here! Digits is a phase distortion synthesizer inspired by Casio's CZ series but designed to take that form of synthesis to the limit. Create warm pads, glitchy sounds, dirty basses, filthy sweeps, screaming leads, and anything in-between. The interface is minimal and allows the user to create sounds from scratch in record time!
Changes in Digits v1.1
First Windows and Linux releases.
More and better presets.
Smoothed zipper noise for FM amount automation.
Delayed LFOs are smoother when they kick in.
Fixed dropped notes with extremely low latencies.
Fixed slow instantiation bug.
Improved MIDI handling.
Digits is available to download as a freeware instrument plug-in for Windows, Mac, and Linux.
More information: Extent of the Jam