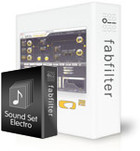 FabFilter has released a new Electro sound set by Ouroboros for FabFilter Twin 2, its powerful software synthesizer.
The Electro sound set includes over 140 new and exciting presets that will add an edge to your music, with immediate application to electro house, electro clash, and experimental electronica. Featuring simple, nasty leads, basses that grind your teeth and pads soft enough to fall into, sound designer Ouroboros (Erin Hamilton) offers a bank with futuristic electronic sounds that will inspire you with new ideas.

When he discovered traveling with a laptop was easier than checking his piano as carry-on, Erin Hamilton was hooked on making music with computers. Designing sounds for software synthesizers has opened up vast new frontiers of sound to explore, and his boorish nickname hints at the playful fun he has doing it. You can expect twisted, unique and engaging sounds with moments of softness and wonder all wrapped in Fabfilter Twin 2's beautiful filters and eminently playable modulations.

Originally released in February 2009, FabFilter Twin 2 is a powerful synthesizer plug-in with uncompromised sound quality and creative and virtually unlimited modulation options. The innovative user interface with an uncluttered routing display makes it also very easy to use.
Electro for FabFilter Twin 2 is available to purchase for 19 EUR / $28 USD / £17 GBP.