FabFilter has announced the release of FabFilter Pro-C 2, a major update for the compressor effect plug-in for Windows and Mac.
Five brand-new compression styles make FabFilter Pro-C 2 even easier to set up and more effective in common scenarios such as vocal processing, mastering or EDM pumping. It's like getting five new compressors!

Together with an abundance of new features, such as lookahead, range, hold, side-chain EQ, oversampling, and a fully redesigned user interface, FabFilter Pro-C 2 surpasses its predecessor in every way while respecting the original's transparency and elegance.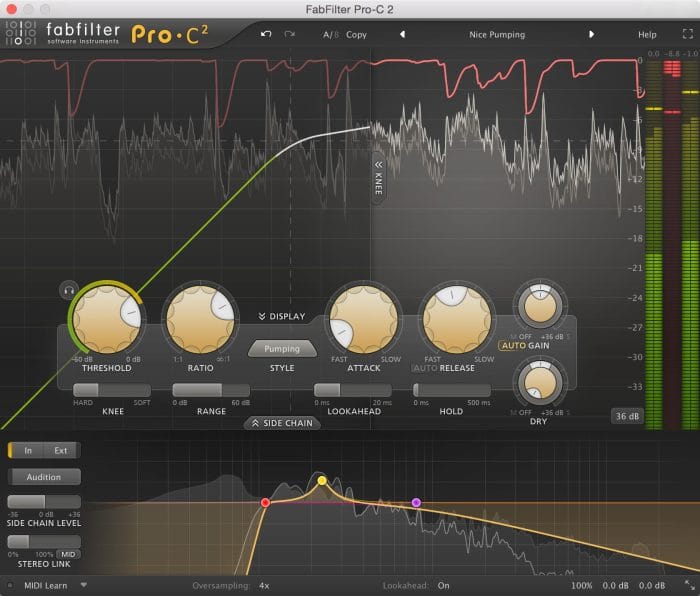 Pro-C 2 features
Eight different compression styles, five of which are new in version 2: Vocal, Mastering, Bus, Punch and Pumping.
Remarkable Retina interface, with (optional) animated level knee displays and accurate peak/loudness metering.
Side-chain EQ section, with customizable HP and LP filters, plus an additional freely adjustable filter.
Program-dependent attack and release curves.
Smooth Lookahead (up to 20 ms), which can be enabled/disabled to ensure zero-latency processing.
Intelligent Auto Gain.
Hold (up to 500 ms).
Custom Knee, variable from hard knee to a 72 dB soft knee (to enable saturation-like effects).
Auto Release.
Up to 4x Oversampling.
Variable stereo linking and mid/side processing, with mid-only, side-only, M > S and S > M processing.
Audition Triggering option, which enables users to hear on which parts of the audio FabFilter Pro-C 2 is triggering and how much compression is being applied.
Multiple interface sizes (Small, Medium, and Large), plus Full Screen mode, offering a large level display and side-chain EQ controller.
Range setting, which limits the maximum applied gain change.
Mix setting, which scales the gain change from 0% to 200%.
Accurate, large level and gain meters, with peak and loudness level visualization (which complies with the Momentary mode of the EBU R128 / ITU-R 1770 standards).
Retina support on OS X and High DPI support on Windows.
External side-chain triggering.
GPU-powered graphics acceleration.
Optional MIDI triggering.
Supports common Pro Tools hardware control surfaces.
Pro-C 2 for Windows and Mac (VST/AU/RTAS/AAX) is available for purchase for 149 EUR / $179 USD / £114 GBP at the FabFilter shop and from distributor Plugin Boutique.
Bundles with FabFilter Pro-C 2 and other FabFilter plug-ins are also available. Existing FabFilter customers can purchase or upgrade to FabFilter Pro-C 2 with discounts by logging in to their online user account.