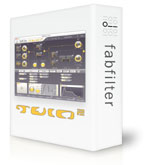 FabFilter has released Twin 2, a versatile and powerful synthesizer plug-in with the highest possible sound quality and an ultra-flexible modulation system.
More oscillators, ring modulation, a new delay effects section and virtually unlimited modulation possibilities make FabFilter Twin 2 much more powerful. At the same time, the new "what-you-use-is-what-you-see" interface with an intuitive routing display makes it also far easier to use. And with more than 1600 factory presets, you can get started right away.
FabFilter Twin 2 key features
Three oscillators with sawtooth, square, triangle, sine, and pink/white noise wave forms, ring modulation, hard sync, pulse width, phase sync, stereo panning and polyphonic portamento.
Two independent multimode filters with 11 different filter characteristics.
On-board delay effects section with two delay units and two extra multimode filters in the feedback loop.
Clean and uncluttered interface that only displays the components that are actually in use.
Drag-and-drop modulation system that lets you modulate almost any setting with the following modulation sources:.
Up to 4 XY controllers.
Up to 6 XLFOs offering everything from classic LFO shapes to 16-step programmable step sequencers, per-step glide with adjustable glide curve, "snap" option that locks steps to musical notes to create arpeggio-like sequences, modulatable phase offset, and much more.
Up to 6 envelope generators with graphic controllers and optional side chain input.
Up to 4 envelope followers, triggering on side chain input.
Up to 10 MIDI sources that let you use any type of MIDI data as a modulation source.
More than 1600 professionally designed and categorized factory presets.
The usual FabFilter goodies: perfectly fine-tuned knobs and controllers, section presets, interactive MIDI Learn, undo/redo and A/B switch, Smart Parameter Interpolation for smooth parameter transitions, an extensive help file with interactive help hints, sample accurate automation, AltiVec and SSE optimization and much more.
FabFilter Twin 2 is now available for Windows and Mac (VST/RTAS/AU) for 129 EUR / $169 USD / 114 GBP. Bundles with FabFilter Twin 2 and other FabFilter plug-ins are also available and existing FabFilter customers can purchase Twin 2 with great discounts by logging in to their online user account. Download a demo version of Twin 2 here.
Visit FabFilter for more information.