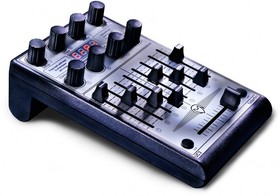 Faderfox has announced the release of the UC3, a universal controller for all kinds of midi controllable software on Mac, PC and iPad.
The little box has 8 push-encoders and 9 faders, all switchable to 8 groups that allow to control a total amount of 136 control parameters. All controls are independently programmable very fast and easy by a small display.

The factory settings are perfect to control music and video software products out of the box if they are freely assignable. So any additional device programming isn't necessary for many applications.

Last but not least the UC3 is also a great extension for your Ableton Live setup. A special control surface script for Ableton Live 8 is enclosed in the package. With that script you can also use two UC3 devices to control up to 16 tracks simultaneously.
The UC3 is available to purchase for 169 EUR inc. VAT.