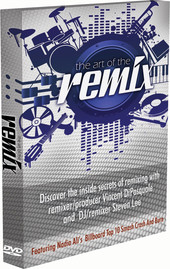 Sounds To Sample has released The Art of the Remix, a video series by FaderPro featuring 42 HD quality video chapters on remixing with Logic Pro.
A fully comprehensive remix course taught by multi-platinum producer Vincent di Pasquale, breaking down and guiding you through the entire remix process, unlocking the secrets of producing cutting-edge remixes.

Here at S2S we're passionate about music technology and education. That's why we're proud to have the FaderPro team on board. Not many people can make engaging, accurate and useable video content but these guys can – and do.

Presented by award-winning producer Pasquale, whose production credits include Madonna, Nelly Furtado and Mariah Carey, these videos allow you to glean first-hand the tips and techniques for making award-winning music.

Focusing on remix technique, this comprehensive collection of 42 videos (clocking up almost 6 hours of hi-res content) guides you from setting up your project in Logic and finding the key of the original track, all the way through to final touches of automation and mixing of your finished arrangement, with everything from basslines, vocals, musical elements, FX, drums and how to stay organised covered in between.
The Art of the Remix is available to purchase for 71.90 EUR.
More information: Sounds To Sample