Fairly Confusing Waveforms has launched Scape-O-Matic, a "sound amusement, gambling device" for Native Instruments Kontakt.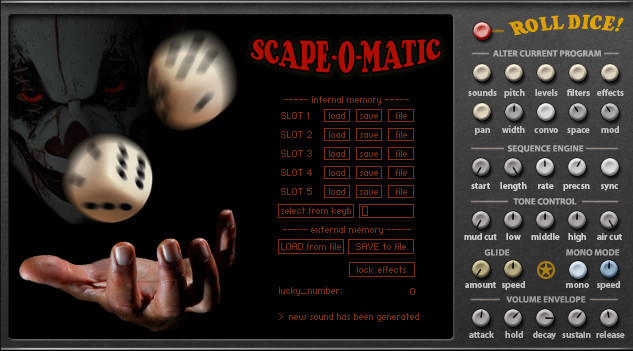 It generates random weird and spooky sounds and soundscapes from a button press. If you like to just spin the wheel and see what happens, you may enjoy playing with it.

This machine has no user manual, so one needs to figure it out by herself/himself. I can offer few tips though.

Press the red button, then play the keyboard.
The equalizer works on dry signal only.
There are hidden buttons.
The machine will build sound out of a number of voices. Each voice is likely to have different settings for volume envelope and glide, although you only see setting for the first voice.
If it sounds really out of tune and you don't like it that way, try setting glide amount to zero. Even, if it seems be be set to zero already.
There are ways to edit single voices.
There is a 'data box' labeled 'lucky number', if you feel lucky, you can type in a number there. It will be used as a token for creating next sound (or for performing any randomizing procedure). Same token always creates the same sound.
Scape-O-Matic is available to download as freeware. Requires full version of Kontakt 4.2 or higher.
More information: Fairly Confusing / Scape-O-Matic