Felt Instruments has released an update to Lekko, a virtual instrument featuring an intimate upright piano, recorded imperfectly through vintage analogue kit for maximum character.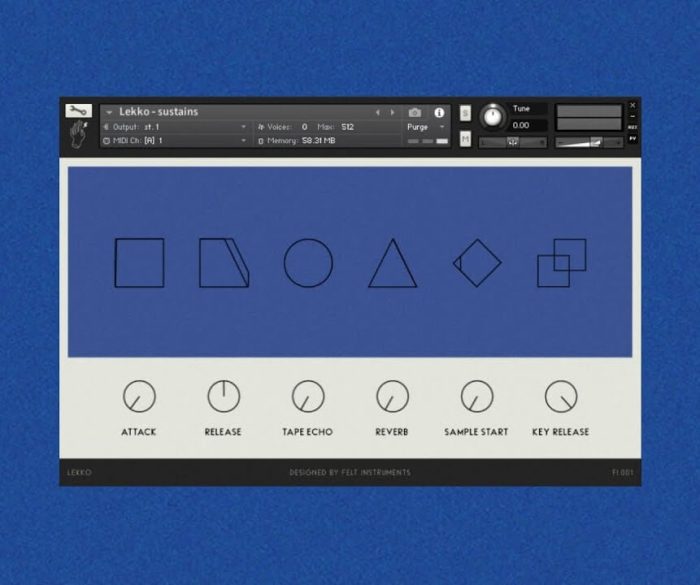 Version 1.1 adds new features, effects and various tweaks.
Lekko [le•ko] is a beautifully recorded upright piano played as softly as possible and captured with a collection of hand-made tube and ribbon mics through hand-made valve preamps for that warm, almost fragile sound.

Besides the soft sustains, you'll also get characterful shorts (going from a hand-muted sound to full ringing) and irregular, unsynced tremolos as well as sound design patches created by processing the sounds through tape and vintage outboard. Among these, you'll find sounds slowed down by playing the tape at half speed and textures modulated by rain.
Lekko features
Piano sustains (5xRR). Three dynamic layers (one recorded, two simulated).
Characterful shorts (5xRR), going through finger-muted samples to full ringing. Three dynamic layers.
Irregular tremolos performed at two intensities (freestyle, not synced to tempo or anything).
All acustic patches include key release samples, recorded across the entire keyboard (5xRR).
6 sound design 'Afterglow' patches, created by processing the raw samples with a selection of outboard equipment and tape.
14 'Layers' patches, allowing you to create your own combinations of sounds taken from the 'Afterglow' section.
7.26GB download (ncw loseless compression, 12.6GB original content). All samples recorded at 96kHz. Presented at 24 bit, 48kHz.
Beautiful interface inspired by 20th century avant-garde design.
Lekko for Kontakt 5.8.1 or higher (full version) is available for £39 GBP ex. VAT where applicable.
Taken from the Lekko piano library, Wolno offers a unique set of half-speed piano samples, recorded to tape and played back at half-speed for some slow-motion wobble and vibe.
Wolno is available to download by subscribing to Felt Instruments.
More information: Felt Instruments