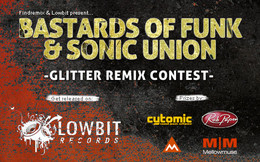 Findremix has announced the launch of the Bastards Of Funk & Sonic Union – "Glitter" Remix Contest in collaboration with Lowbit.
We are giving you the opportunity to remix the force behind Lowbit Records – Bastards of Funk & Sonic Union – and one of their most successful tracks to date, 'Glitter'. The winner gets a digital release on Lowbit Records alongside star talent like Soundprank, Ben Coda, Steve Haines and Kobana and prizes by Rob Papen, MeldaProduction, Mellow Muse and Cytomic!

'Glitter' was originally released in 2009 and climbed quickly to the top charts on Beatport as well as being licensed to Global Underground and featured on their GU2009 compilation. Today 'Glitter' is still getting hundreds of plays online every week and we couldn't think of a better track to use for this competition. Lowbit is looking for remixes in the tech house/progressive house/techno genres.
Contest deadline is September 4th 23:59:59 GMT+1 (Central European Time).
Visit Findremix for more information.