Findremix has announced the Ummet Ozcan – "Insignia" Remix Contest.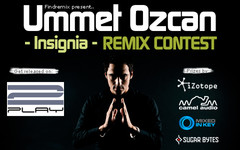 We have teamed up with 2Play Records offering the great opportunity to remix Insignia by Dutch wonderkid and trance genious Ummet Ozcan. Insignia has been rocking the Beatport tops for weeks, and now you can play with it and get released on 2Play as well as win prizes from top audio companies iZotope, Camel Audio, Mixed In Key and Sugar Bytes.

With the release of Ummet Ozcan's unofficial Trance Energy 2009 Anthem TimeWave Zero he became one of the few Dj/producers that was highly supported on Dutch national radio and gained hitsucces between the normal mainstream pop- and rock artists.

At this moment he is developing a new synthesizer along with new spectacular unheard of sounds, that will definitely pave the way for a fresh new musical breeze thru EDM. Also he is working on a few new big anthems, that will undoubtly bring a lot of earpleasure and tons of Ozcan followers.
The deadline for submitting your remix is 20 March, 2011.
Visit Findremix for more information.