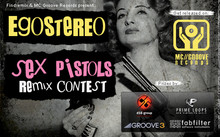 Findremix has announced the launch of the Egostereo – "Sex Pistols" Remix Contest, in collaboration with MC Groove Records.
And here we go again! We are very happy to announce a new big remix contest on Findremix. We have teamed up with MCGroove Records to kick off a remix contest of Egostereo's new hit "Sex Pistols", an excellent techno track supported by top producers & djs such as Mark Knight, Markus Schulz, Eddie Halliwell, Dave Seaman and many more!

Download free stems now, create a cool remix and get it released on MCGroove plus receive prizes from our offical sponsors Groove3, FabFilter, D16 and PrimeLoops.
Closing date for submissions is June 12th 23:59:59 GMT+1 (Central European Time).
Visit Findremix for more information.