FL Studio has many keyboard shortcuts, but do you know them all? I certainly don't!
I know the FL Studio manual has the basic shortcuts listed, but I don't want to check help every time I want to know a keyboard shortcut. I figured someone else must have made a "cheat sheet" before, but all I could find was an old list of Fruity Loops 4 commands (which is still useful since the basic shortcut keys didn't change really, but I wanted all the commands as they are in the FL Studio keyboard shortcut reference) so I made my own list.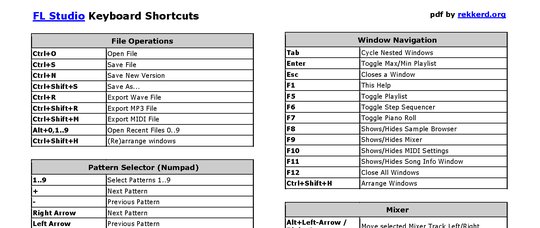 It doesn't look so hot on the screen, but hey, it's for printing and putting it somewhere you can easily glance over it when you need to know a particular keyboard shortcut.
You can download the PDF file below. I should note that this list uses small type to fit everything on one page. Sorry if you're having trouble reading it…)
FL Studio Keyboard Shortcuts (pdf format) — Download size: 87.87 kB
In case you don't want to deal with PDF's you can get a PNG with slightly lesser quality instead.
Of course there are many more shortcuts in FL Studio, which you can find by checking context menus etc. Are there any shortcuts you find invaluable?