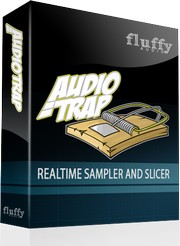 Fluffy Audio has introduced AudioTrap, a plugin which is able to capture a small chunk of audio from your favourite DAW and play with it in a number of different ways.
It can recreate stutter effects, enables loop remixing in a number of different ways. It allows to catch a single note of a live instrument and to play with it like you would do with a classical sampler.It is a very useful instrument for live musicians, DJ and people who loves to experiment with sound.
AudioTrap features
Low CPU utilization.
Sampler mode for playing melodies from a single captured sample.
Slicer mode for constructing time cuts, breaks and stutters or to create variations of a rythmic pattern.
Intuitive UI for effective usability.
ADSR Filter for amplitude envelope control.
Engine Optimized with support to SSE2 instructions.
32 and 64 Bit Support.
AudioTrap is available for Windows (VST), priced at 39 EUR / $49 USD. A free AudioTrap Lite version is also available.
More information: Fluffy Audio