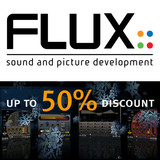 Flux has announced a Winter "Pure Holiday" promotion.
Pure Holiday with Flux::

During December Flux:: offers a "Pure Holiday" Winter Promotion offering the Pure Series plugins,
including Epure II EQ (NATIVE/TDM), as well as the Pure Pack bundle at a 50% discount.

We also offer the Mastering Pack and the Recording Pack at a 30% discount.
The promotion will be available through December 31, 2009. To take advantage of the promotion you can either purchase direct via download through the Flux:: online shop, or go to your local dealer to purchase your desired plug-ins or bundles.
More information: Flux