Focusrite has introduced a number of new products at the NAMM show.
The Liquid Saffire 56 is Focusrite's new flagship Firewire interface. It has generated a great deal of excitement in the industry as it marries Focusrite's celebrated Liquid technology with its new generation of Firewire interfaces (led by the critically acclaimed Saffire Pro40).
Two of the eight mic pre's use the third generation of Liquid pre amps, building on technology used in the Liquid Channel and Liquid 4Pre.

Liquid Saffire 56 key features
Two Liquid Pre-amps — The marriage of a hugely flexible analogue front end with cutting-edge dynamic convolution DSP, each Liquid Pre-amp lets you choose from ten different classic pre-amp emulations, with an eleventh 'flat' option.
Six High Quality Award-winning Focusrite Pre-amps — Six award-winning Saffire pre-amps complement two Liquid pre-amps. All eight pre-amps demonstrate the same wide bandwidth philosophy behind the early vintage Focusrite units.
High Quality 24-bit/192kHz Firewire Interface — Professional digital conversion and JetPLLTM jitter elimination technology; pristine audio quality and reliable synchronisation are guaranteed.
Total I/O Count of 28 Inputs and 28 Outputs — A host of i/o options are provided*, including a unique loop-back facility for routing audio between software applications via Saffire Mix Control.
Suite of Focusrite VST/AU plug-ins — Upgrade your standard sequencer effects and bring a touch of class to your session with Focusrite Compression, Reverb, Gating and EQ VST/AU plug-ins.
Two separate headphone buses — Two artists can receive independent and fully customised monitor mixes. Each output has an independent level control available on the front panel.
Saffire Mix Control Zero-latency DSP Mixer/Router — Routing flexibility and intuitive one-click set-up solutions; Saffire Mix Control provides an 18 x 16 DSP mixer with excellent output routing and monitoring capabilities.
Front panel 5-LED metering — LED metering for each of the analogue, ADAT1, ADAT2 or S/PDIF inputs offers accurate viewing of levels direct from the front fascia.
The Liquid Saffire 56 will be available worldwide in the first quarter of 2009.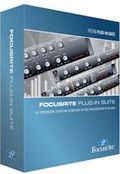 Focusrite have also announced the release of two Plug-in suites: The Focusrite Plug-in Suite provides a collection of EQ, Compression, Reverb and Gating VST/AU plug-ins from one of the most prestigious names in pro audio. The Compressor and Gate have been modeled on Focusrite's hardware devices, using the measurement of Focusrite's custom optos to achieve a vintage optical sound. The EQ module delivers a similar signature to the original Focusrite ISA EQ curves, and the reverb is based on classic studio designs and has been developed to allow users to get the right reverb sound with the minimum effort.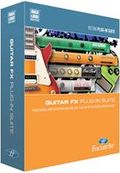 The Guitar FX Suite from Focusrite consists of eleven professional VST/AU plug-ins for guitarists. These include five of the world's finest guitar amp models and four distortion pedal effects, all courtesy of 'Overloud', experts in the field of accurate guitar amp modeling. The amp models include plug-ins based on the Vox AC30, Marshall JCM900, Fender Twin, MESA Boogie Rectifier and the Fender Bassman. The pedal models include plug-ins based on the Boss DS-1, the Ibanez Tube Screamer, the Electro Harmonix Big Muff and the Dunlop Fuzz Face.
Both the Focusrite Plug-in Suite and the Guitar FX Suite will be available in January.
Visit Focusrite for more information.