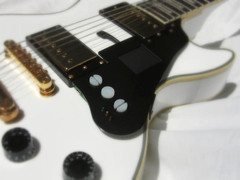 FreePlayer Ltd. has announced that FreePlayer is now available to pre-order.
FreePlayer, which allows guitarists to control effects by motion and touch, consists of a hardware attachment for the guitar and a software application that hosts VST plug-ins and controls MIDI devices. A Windows version is offered initially, with other operating systems to follow.
The first models to be made available are:
FreePlayer Pro for Les Paul guitars

– pre-order price €299 (normal price €399) – contains a complete set of FreePlayer sensors in an 'easy-fit-kit' pickguard:

38x48mm Touchpad (responds smoothly to a pick or a fingernail)
3-Axis Motion Sensor (Responds to motion up to 3G – Shock-proof to 10,000G!)
Flexible Light Sensor (Detects light changes in 1000 smooth increments)
Tactile button array (Five buttons individually shaped for recognition by touch.

FreePlayer Express

– pre-order price €149 (normal price €199) – a universal kit that attaches to most guitars or basses with a simple adhesive pad (included). With a 3-axis Motion Sensor and Tactile Button array, it's all you need to get up and running!

FreePlayer Express Plus

– pre-order price €199 (normal price €249) – all the benefits of FreePlayer Express, with an additional Flexible Light Sensor.
Each FreePlayer unit comes with a USB cable, the FreePlayer software, and is bundled with these VST plug-ins:
Saltline Audio Solutions: Bachelard, 'Son of a Pitch' and Cadence.
Voxengo: Voxengo Boogex.
MeldaProduction MFreeVSTBundle: includes MCompressor, MEqualiser, MPhaser, MRingModulator, MFlanger, MTremolo, MVibrato, and many others.
NDC's Open source VST plugins: Fragmental, and the wonderfully named Reversinator.
FrettedSynthAudio: FreeAmp3.
Users will be able to download more VSTs and sounds from the FreePlayer SoundStore, including Saltline Audio Solution's previously announced range of plug-ins developed specifically for FreePlayer.
Customers Pre-ordering FreePlayer between now and the product release (expected end of July) receive a discount of up to €100 – with deposit of just €50.
More information: FreePlayer