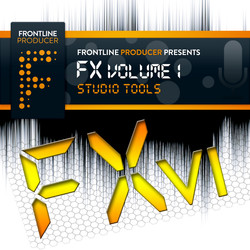 Frontline Producer has launched FX Volume 1, a new Studio Tools series sample library, featuring 148 sound fx samples.
What we have here is the combination of workshop, jam jars, beatboxers, mbira, tam hits, cymbals and so much more all shoved in front of a proper mic, squashed through our Class A pres and brought into the digital domain just for you.

The studio has been mayhem… We're gonna record what? Chains being dropped… well why not, some gaffa being torn. That makes a good sound let's stick a mic in front of it.

Wobble boards, claps, didge, Djembe, a drill (really???) are all here to brighten up your tunes.. Just to give you an extra something. A little 'WTF' You can build beats with our one shot beatbox or you can take these sounds and make them even weirder. We've left them mostly dry but you can effect them to your hearts content.
The sample library costs £14.95 GBP.
More information: Frontline Producer