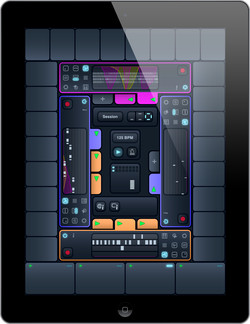 Futucraft has launched Cotracks, a collaborative music studio for teamwork on a single iPad.
With Cotracks you can create multiple layers of loops and phrases using multiple instruments. Cotracks is designed to maintain your creative flow and is always ready to capture your ideas, regardless whether you are flying solo or collaborating with others.

Collaboration is where Cotracks really stands out. Everyone in your session has the ability to play and record at will without disrupting or being disrupted by the workflow of others. This lets you lay down the foundation of a tune within minutes and makes Cotracks the perfect and inspiring tool for brainstorming new ideas within a group.

The loops you create may be exported as separate audio clips or as a mixdown audio clip which you may then import and use in any audio software supporting the common wave audio format.
Cotracks is available to purchase for the introductory price of $4.99 USD (50% off regular).