Futuresonus has announced Parva, a revolutionary new polyphonic analog synthesizer that combines the classic warmth of an all-analog signal chain with the modern convenience of digital control in an elegantly designed tabletop package.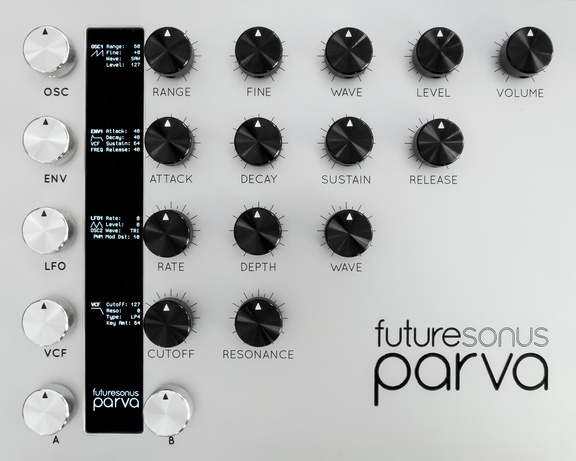 "I designed Parva from the ground up with the intention of producing a completely new synth while still maintaining the character of the classics from the '70s and '80s," said Futuresonus founder Brad Ferguson.

Each of Parva's eight voices features three digitally-controlled analog oscillators, producing sawtooth, triangle, and PWM waveforms with extremely accurate pitch and rock-solid tuning stability. A pair of two-pole state-variable filters can be configured for a 12dB or 24dB low-pass or high-pass response, or split for bandpass or notch filtering. Four four-stage envelope generators and four multi-waveform low-frequency oscillators feed a flexible modulation matrix, allowing for virtually limitless sound design options.

Parva is the first analog synthesizer to feature a USB Master port, which enables the user to connect any class-compliant USB MIDI keyboard — or other controller — directly, without the need for a computer. Analog potentiometers provide immediate access to the most commonly used parameters, while the high visibility OLED displays on the front panel show additional settings, making it simple to dial in the perfect patch.

From the aluminum enclosure to the custom-machined aluminum knobs on sturdy panel- mounted potentiometers, Parva was designed with working musicians in mind, and built to last. Each unit will be hand-assembled in Austin, TX.
Parva is expected to ship in Summer 2015. Pre-orders will begin in February, with the standard polyphonic Parva retailing for under $1,000 USD. An expandable monophonic version will also be available for under $500 USD.
More information: Futuresonus