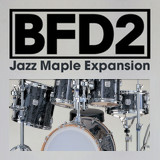 FXpansion has announced the release of BFD Jazz Maple, an expansion pack for the BFD2 & BFD Eco family.
BFD Jazz Maple is an expansion pack featuring a Yamaha Maple Custom drum kit, compatible with BFD 2.1 and BFD Eco. The expansion features several bonus 'lite' kit-pieces – a Yamaha signature Roy Haynes copper shell snare and a suite of Sabian cymbals.

The Maple Custom is an embodiment of the advanced progression in drum and hardware construction technologies developed by Yamaha, resulting in stunning sustain, warmth and projection. Although the tone of the kit lends itself particularly well to jazz, fusion and funk, BFD Jazz Maple is suitable for all styles of music that demand expressive, great-sounding drums. BFD Jazz Maple comes with a selection of great-sounding BFD2.1 and BFD Eco presets which offer some stunningly produced sounds right out of the box.
BFD Jazz Maple features
Low-cost, download-only expansion packs for BFD2 and BFD Eco.
Includes bonus 'lite' signature Roy Haynes snare and with matching beaters.
Includes bonus 'lite' Sabian cymbals with matching beaters.
Stunning sounding presets with custom grooves.
Includes 5 groove palettes from Platinum Samples – Real Jazz.
BFD Jazz Maple is available to purchase as a download-only expansion pack for £35 GBP / €49 EUR / $70 USD.
The expansion is available at a special offer price of £25 GPB / €35 EUR / $50 USD for any registered BFD Jazz 'n' Funk owner. Purchasing BFD Jazz Maple entitles registered users to purchase BFD Signature Snares vol. 1 and/or BFD Signature Snares vol. 2 at a discount price of £25 GBP, €35 EUR, $50 USD each.
More information: FXpansion / BFD Jazz Maple