G-Sonique has announced Psychedelic FX6000 V1, a modern multi-instrument/rompler plugin geared towards Psytrance, Darkpsy, Fullon, Hitech, Psychill and Progressive music.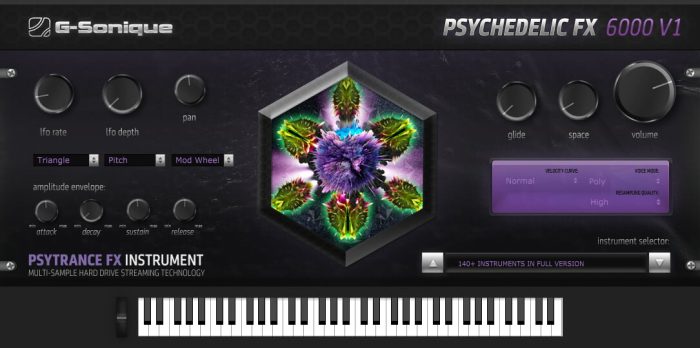 Psychedelic FX6000 include 140+ high quality, multi octave instruments/sounds ready for music production.

You can create your own FXs with various synthesizers, but it is difficult and very time consuming process, usually you must spent long hours creating just one sound, Psychedelic FX6000 makes your production easier and faster, you can choose from hundreds of high quality FXs made by professional psytrance producers in speed of just few seconds, modify them with internal parameters or use external vst effects (filters, modulators, reverbs, delays etc.) to re-create your own unique FXs.

So with Psychedelic FX your production become more professional, faster and you can fully focus on creating melodies, arrangements, beats etc. Psychedelic FX 6000V1 also saves lot of your CPU and RAM (it is much more effective than basic synthesizers). This plug-in include everything what you need to spice your production: classic and twisted psy FXs, lasers, blips, various FX hits, bombs, risers, downfillers, soundcapes, pads, fm twisted sounds, experimental FXs, progressive FXs, film drum hits, soundscapes for intros/outros, alien sounds, noise FXs, full on sounds, from mysterious and dark to positive sounds. Psychedelic FX6000 include huge library of 1,1GB internal files packed together with plug-in!
Psychedelic FX6000 V1 features
1.1 GB library with 140+ high quality multi-octave instruments with class A audio interpolation/resampling.
LFO Modulation with depth and rate knobs (modulates: volume/expression, panning, pitch) with triangle, sinus, square, saw, and exp shape.
Glide knob.
Space knob.
3 modes: Polyphonic, Mono, Legato.
Amplitude envelope with attack, decay, sustain, release knobs.
Resampling quality selector.
Velocity curve selector.
Pitch bend knob.
Pan knob.
Possibility to load external bonus instrument (will be distributed to clients as special bonus).
Multi sample hard drive disk-streaming / memory reading mode (for saving RAM capacity).
Psychedelic FX6000 V1 is available for Windows and Mac (VST/AU), priced at 26.90 EUR. The first 100 customers can get it for 17.90 EUR.
More information: G-Sonique / Psychedelic FX6000 V1