Audio Plugin Deals has launched a limited time offer on the ZapZorn Master Collection, a bundle comprising 16 composing tools for Native Instruments Kontakt.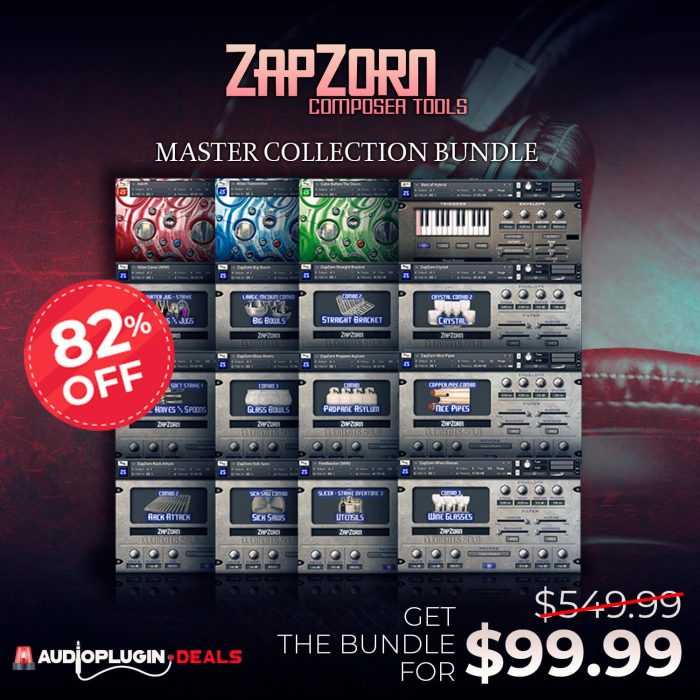 The ZapZorn Master Collection is every product in the ZapZorn Composer Tools arsenal comprising of ZapZorn Elements, Solstice Blue, Green and Red, all 9 Element Solo instruments and the ZapZorn Kitchen Suite.
ZapZorn creates composing tools that will set you apart from all the other performers and composers who are still using the same old tools.
ZapZorn Master Collection features
Elements: Over 100 tonal objects sampled at 96k of glass, metal, wood and plastic. 40 Menus, 160 Patches, 30 Multis. Kontakt Player Instrument.
Solstice: Infinite Total Sound Design Based Pad Creator. 3 Products ranging from peaceful Pads (Green) to Nasty Pads (Red). Each have 24 Core sounds, 24 X and 24 Y Sounds that blend to make unlimited patches. Multiple Randomizers to make unlimited unique patches.
Elements Solo: 9 Object-based tonal sample librariesr. 12 Key Selectable Groups Each. Built in FX and Convolution Reverb.
Kitchen Suite: 3 Object-based tonal sample libraries with over 50 Objects. Multi-velocity samples. 90 Patches and 30 Multis.
The ZapZorn Master Collection is on sale for $99.99 USD until May 29th, 2019. Each individual item in the bundle can also be purchased at 50% off during the sale.
More information: Audio Plugin Deals