2getheraudio has announced the release of its new virtual instrument SN4RE Drum, a snare drum synthesizer that aims to venture into fresh sonic electronic drum territory.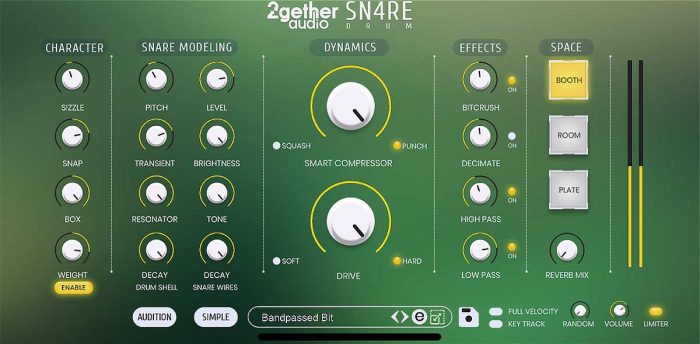 We all love our 808 snares, but let's face it, sometimes you need to venture away from the same-old-thing and do something different. With snare drums, that can be scary given how important they are to a beat or groove. So we made SN4RE Drum. A virtual instrument built specifically for getting your perfect electronic snare drum sound.

To get the perfect snare drum sound you need some precision controls. SN4RE Drum gives you those controls. If you need extra drive or punch, you can do it. If you need a brighter or darker tone, higher or lower pitch, or even a snappier attack, SN4RE Drum has you covered. A full 34 parameters, all automatable in your DAW, deliver limitless possibilities for any style of music or production.
SN4RE Drum features
Electronic Snare Drum maker with simple and expert editing options.
100 fully editable Snare Drum presets.
Highly customized macro controls customized for snare drum editing.
Advanced control over snare drum attack, body, dynamics, character and room selection.
Includes VST, AU, AAX plugin formats for compatibility with all DAWs.
Powerful synth engine delivers electronic snare drums ranging from subtle to punchy, noisy to clean or traditional to experimental.
Super easy to make your own electronic snare drum sounds.
Includes a convolution reverb for high quality room ambience.
SN4RE Drum is available as a Pay-What-You-Want download with a minimum of $10 USD.
More information: 2getheraudio