GForce Software has announced the release of PC versions of impOSCar2, the successor of the software synthesizer emulation of the OSCar synthesizer.
Since the original impOSCar release we've carefully compiled user feedback and over the course of eighteen months, in another true labour of love, we've incorporated the best of these within impOSCar2 creating a synth that positively oozes more character, more playability, more expression and more detailed sound sculpting opportunities than could have been imagined a few years ago.

impOSCar2 features
Successor to the multi-award winning impOSCar.
Two Oscillators & 13 Waveforms.
New Mono Unison and Poly Unison Modes.
New Aux Mod Section with comprehensive routing.
Programmable Additive Wave Matrix Grid.
Nine Filter Types with Drive, Cutoff, Q and Separation.
New Chord Memory and single note retrigger.
6 Portamento modes with new Unison glide voice spread.
New Unison Voice Pan.
New Note Pan Modes.
Programmable Velocity Responses and New Aftertouch.
Improved Arpeggiator.
New Instrument and Effects Versions.
Small, Regular or Large Interface Sizes.
New Ring Modulator.
New Chorus Modes.
1000+ Patch library featuring sounds created by original OSCar users inc Billy Currie (Ultravox) Darren Price & Rick Smith (Underworld) & Paul Wiffen (the original OSCar sound designer and programmer for Stevie Wonder & Jean Michel Jarre).
The impOSCar2 is now available for Windows and Mac (VST/AU/RTAS/Standalone), priced at £139.99 GBP incl. VAT.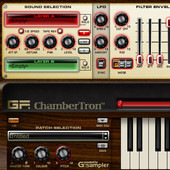 GForce has also released the ChamberTron, an expansion pack for the M-Tron Pro virtual instrument.
If you're unfamiliar with Chamberlin® musical instruments, please take the time to read about them in the Original Instrument section and check out the video showing our Chamberlin instruments.

Because if you thought that tape playing instruments started and ended with the Mellotron®, you'll probably be blown away to discover that the entire tape playing instrument genre was invented by a Wisconsin based inventor, Harry Chamberlin, back in the 1950s.
ChamberTron features
The sounds of the legendary ChamberTron.
Only available via download..
Over 40 new tape banks.
35 Notes per tape bank.
Optional ChamberTron Interface design.
100s of Patches, many from luminaries including Dean & Jarrod (I Monster), David Hentschel (Genesis & Elton John) & Jem Godfrey (Frost).
ChamberTron for M-Tron Pro is available to purchase for £69.99 GBP incl. VAT.
More information: GForce / impOSCar2 / ChamberTron