GForce Software has announced the release of its brand new virtual instrument OB-E, taking the emulation of the legendary Synthesiser Expander Module based 8-Voice from Oberheim one step further with various enhancements and additions.
The concept of the 8-Voice is actually very simple; based around a single Module containing two VCOs with Pulse and Sawtooth waveforms, two ADS Envelope Generators, one LFO, and a magical Multi-Mode Filter. In isolation eac Module is monophonic, but in the 8-Voice, because there are eight Modules triggered by a polyphonic keyboard, you have a superb eight note polyphonic synthesizer.

While simple at heart, OB-E is, to our knowledge, the first virtual instrument with complete per-voice control. This unique Octaphonic architecture offers fresh and exciting creative possibilities to music producers, composers and sound designers for the first time in the digital realm.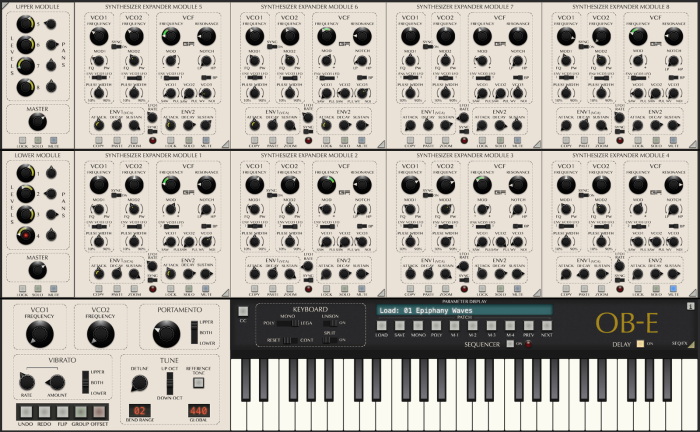 The instrument which has a resizable user interface comes with various handy features to make editing of the 8 individual modules easier. You can zoom on a specific module and its rear panel, and use group to apply a Synthesizer Expander Module parameter change to all modules at once.
OB-E features
Unique 8-Voice Octaphonic architecture.
An authentic sounding emulation of the Oberheim® 8-Voice.
Zero delay feedback filters.
600 factory Patches designed to fit in a mix, all tagged and categorised.
Librarian for easy access to the Patches (Arrow Keys Navigation).
Continuous, round-robin mode where each note uses a new voice.
ZOOM enlarges an individual SEM filling the UI with front and rear panels side by side.
Group mode to edit all Modules at once.
Individual SEM Copy, Paste and Save.
LFO, 3rd VCO doubling as a second LFO.
Multiple triggering modes; Polyphonic, Monophonic, Mono Legato, & Unison.
Fully featured analogues style MIDI Sequencer & Stereo Delay.
Upper/Lower sections can be Split across the keyboard.
Extensive Velocity & Aftertouch modulation.
Polyphonic aftertouch and MPE ready.
Currently available for macOS only in VST, AU and AAX plugin formats and as a standalone application, OB-E has an introductory price of £129.99 GBP (regular £149.99 GBP). A free trial version is available to download.
More information: GForce Software