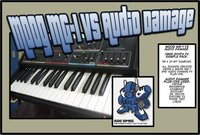 Goldbaby Productions has released Moog Mg-1 vs Audio Damage, a free synth fx sample pack.
Goldbaby loves Audio Damage plug-ins and his Moog MG-1… so it was natural that they play together….
Moog Mg-1 vs Audio Damage features 38 x 24bit samples of the Moog MG-1 filter self oscillating and the Audio Damage fx adding stereo space and depth etc…
Visit Goldbaby's free stuff page to download this sample pack.