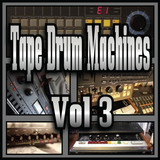 Goldbaby Productions has released Tape Drum Machines Vol 3, a new collection of drum machine samples.
More drum machines given some tape love!
Tape Drum Machines Vol 3 features
12 Drum Machines and 3 Tape Machines. 3498 x 24 Bit drum samples.
Drum Machines used: Casio RZ-1, Roland TR-55 & PB-300, Kawai XD-5 & R-100, MFB-522, Korg DDM-110 & DDM-220, Sakata DPM-48, Yamaha RX-21L & ED-10, and the MPC ELectronics DSM-1.
The Tape machines used: Otari MX5050 1/4″, Rolla 77 valve mono 1/4 inch, and the Hitachi Cassette deck. Plus the UBK Fatso was also used.
Formats: Battery 3, Guru and Wav Pack (Guru version includes 18 Bundles & Kits, Battery 3 version includes 18 Kits & a few Midi files to preview the kits).
Tape Drum Machines Vol 3 is available to purchase for $29 USD.
More information: Goldbaby Productions / Tape Drum Machines Vol 3