Time+Space has announced the release of the DRONAR Live Strings Module, Gothic Instruments' third module in its critically acclaimed DRONAR sound design series.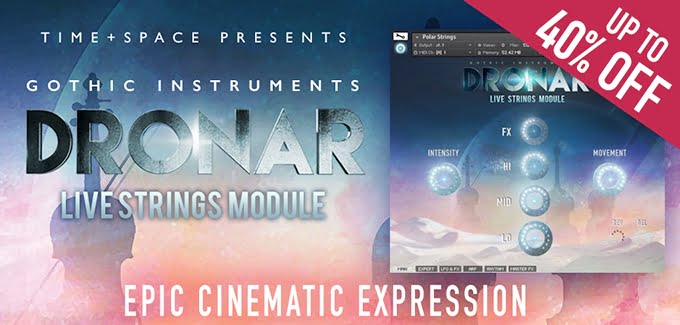 DRONAR Live Strings is an expressive, highly playable module that creates a massive range of strings-based textures ranging from natural live strings and live-played effects to awe-inspiring soundscapes.

Coupled with a huge multi-track modular plus synth, effect, arpeggio and rhythm sequencer controls, this is a powerful cinematic beast worthy of heaven and hell.

Expect foreboding evolving atmospheres loaded with suspense, otherworldly powerful pulsating pads, haunting swarms and face-melting scrapes and screeches that will strike horror in to your audience. On the lighter side, complex shimmering soundscapes abound alongside magical melodic strings brimming with emotion and rich tranquil textures.

A universe from a single note
DRONAR creates mind-expanding atmospheres from a very small number of notes played. It automatically spreads out the chord in the mid-range, adds a root bass note, a high note and then adds evolving sound effects. 8 simultaneous different sounds are then animated with LFOs, a rhythm sequencer and arpeggiators to bring them to life. The results are rich and dramatic.

A hand free for expression
This sonic complexity from one hand frees up the other to expressively control dials with mouse drags or external MIDI controller knobs, and record the changes as a performance in your DAW. Subtle dial movements give deep expression, ideal for soundtracks as well as highly expressive pads, patterns and atmospheres in any genre.

A complete atmosphere
Because DRONAR instantly adds low, mid-range and high sounds plus sound effects, you barely need other non-Dronar sounds to quickly create a complete piece of atmospheric, expressive music.

Beginner and Expert Friendly…
Just play a few notes and move a few dials to achieve a rich, evolving universe of sound but move beyond the shimmering immediacy of the 'Main Page' and a whole other world of expert control awaits turning DRONAR into a vast modular multi-timbral synth/sampler with multiple independent arpeggiators.
DRONAR Live Strings Module features
731 presets in total.
Includes 204 .nki presets each built from 12 individual Drone presets.
10GB of audio (compressed to 9GB in Kontakt's lossless format).
Developed for the full (paid for) version of Kontakt 5.6.
Performed by the Royal Liverpool Philharmonic Orchestra.
Evolving, rich and complex sounds that would otherwise take hours to create.
Create creepy, otherworldly sci-fi atmospheres or rich, romantic, melodic pads.
From sharp, loud and dramatic to soft, soothing and dreamy.
Foreboding and suspenseful to relief and calm.
The perfect companion for movie, tv and video game soundtrack projects as well as Pop and Ambient music.
Expert and beginner friendly.
4 'ambiences' – Close (large ensemble, close mics), Small (small ensemble), Hall and Cathedral.
6 pages of simple controls deliver massive control.
Create your own rhythm patterns in amongst the pad magic with the Rhythm Editor.
Dive deeper with DRONAR´s unique independent arpeggiators.
Onboard FX provide further sound design options.
DRONAR Live Strings for Kontakt 5.6 (full version) is available to download now with an introductory 20% off. Existing DRONAR module owners (Guitarscapes or Hybrid) can combine their 20% loyalty discount with the intro offer to double their saving to 40%!
DRONAR Live Strings is also included in the Gothic Instruments Complete Bundle, which contains all three DRONAR modules, plus the two currently available SCULPTOR sound design tools for just £179 GBP (over 40% off + save up to 40% on future DRONAR and SCULPTOR releases).
Gothic Instruments' Dan Graham will be live on the Time+Space Facebook page tonight (March 21st) at 7pm (GMT) showing off the features and sounds of Live Strings and answering your questions. Like the T+S Facebook page to receive notification when he goes live!
More information: Time+Space / DRONAR Live Strings