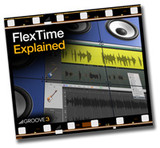 Groove 3 has released FlexTime Explained, a video tutorial series on Logic Pro 9's FlexTime.
If you use Apple Logic 9, then you must learn to use its incredible FlexTime feature. This amazing tool allows you to stretch and squeeze audio in ways you've never dreamed. Now you can hone a track to perfection or create something completely different, all while keeping the sound intact.

Apple Certified Logic Pro Eli Krantzberg starts from the beginning explaining all the features and functions of FlexTime and then moves onto showing you how to use FlexTime on the most common instruments such as multi-tracked drums, bass, vocals and more. Get flexible, get FlexTime Explained today.
FlexTime Explained features
16 Tutorials / Over 1.5 Hours Total Runtime
For all beginner to intermediate Logic 9 / FlexTime users
Tutorials written by Apple Logic Certified Pro Eli Krantzberg
Simple to use video control interface for Mac & PC
FlexTime Explained is available as a download for $34.99 USD, on disc for $39.99 USD, or as a 30-day "Watch It Online" item for $14.99 USD.
More information: Groove 3 / FlexTime Explained