Groove3 has launched a new online video course that provides one-on-one tutorials with master mixer Dave Pensado.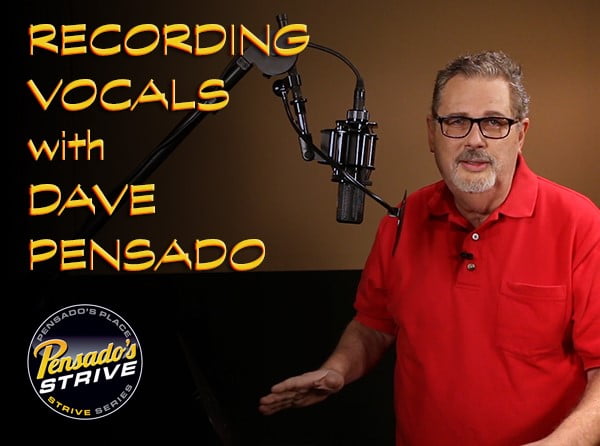 Recording Vocals with Dave Pensado was created for both the enthusiast recording in their bedroom and the audio professional already working in a studio. Whether interested in vocals recording techniques, microphones placement, or fixing and mixing vocals, Dave provides easy-to-follow instructions in 34 video tutorials organized in 8 chapters, allowing the viewer to pick a specific topic or follow the course chronologically.

Capturing vocals well is one of the most challenging tasks in the recording process. "I've noticed over the course of my career that the performance, the energy, the vibe of the vocals is probably the single most important part of the record," says Dave Pensado. "If you think back to when you first discovered music, what you fell in love with was the vocal performance and the energy of that vocal, so we are going to focus a lot on that and on the technical aspects that bring out that magic."

In this new course, Dave Pensado teaches techniques that can be applied to all genres and instruments. He covers technical topics such as how mics work, placement, and processing along with interpersonal topics like how to make the vocal talent feel comfortable and how to project confidence to get a great performance. Included in the course is an actual session with vocal star Esthero, as well as a contribution from mixing engineer Bob Horn covering how to fix problems with VocAlign and Melodyne.

Recording Vocals with Dave Pensado is the video equivalent to a private tutoring session with the master. Not only does Dave share his knowledge and expertise, but he also encourages and motivates the viewer to develop their own unique style and taste and how to stay true to it.

Dave Pensado is one of the recording industry's preeminent mix engineers, and one of the most-watched online audio instructors in the world. With multiple Grammy nominations and wins under his belt, Dave has had an astounding career. Christina Aguilera, Pink, Shakira, Beyoncé, Flo Rida, Afrojack, Frank Ocean, are just a few of the many superstars who keep Dave on speed dial. From pop to hip hop, country to Latin, and R&B to alternative, Dave's special niche is making radio-friendly records while enhancing artistic intent. His online television series, Pensado's Place, is seen in over 150 countries and is used as a teaching tool by more than 100 schools.
Recording Vocals with Dave Pensado is exlusively available at Groove3.com, priced at $94.99 USD, $2.99 USD for 72 hour rental, or available for streaming with the Groove3 All Access Pass for $15 USD/month.
More information: Groove3 / Recording Vocals with Dave Pensado