Klevgrand has announced the release of Haaze 2.0, an update to the stereo enhancer effect plugin that brings any mono signal to life.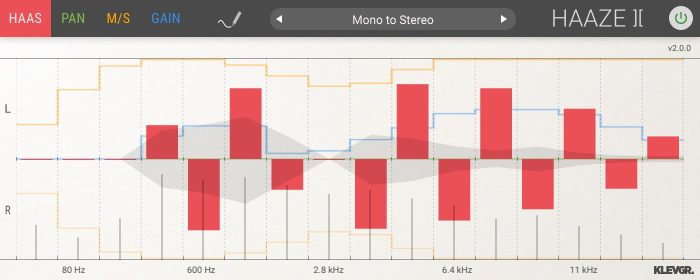 The initial version of Haaze was released in 2016. Back then, as part of the Klevgrand Kanvas Series, Haze offered a quick and easy way to add stereo width to a sound.
Version 2.0 of Haaze is a much more powerful tool for many kinds of stereo operations, with new filters, better control over the audio processing and a brand new user interface.
The upgraded Haaze v2 from Klevgrand is an elegant solution for controlling stereo width and spatially positioning a sound in a stereo mix. Regular L-R panning is a weak tool that doesn't resemble real-world acoustics, which becomes clear when trying to place a mono sound naturally in a stereo mix (especially on headphones). The result still feels very "mono".

Haaze is an audio plugin that makes the positioning feel more natural, understandable and pleasant for the ears. It splits the audio signal into 16 frequency bands. On each band, you can delay the left or right signal (which will make the listener believe the sound arrives from the side that's reaching the ear first), pan it to the left or right, or adjust the overall width on that band (for example, make the lower frequencies more focused in the middle than the higher). Haaze can also diffuse a mono signal and make it wider.
Changes in Haaze v2.0
(Updated) Haas: Control delay time on 16 separate bands.
(New) Pan: Pan any of the 16 bands between left and right channel.
(New) MS Stereo: From mono to (normal) stereo on each band.
(New) Gain: Compensate gain on each band.
Plenty of factory presets in different categories.
Haaze 2.0 for desktop (VST/AU/AAX) is on sale for the intro price of $29.99 USD until September 29th, 2019 (regular $59.99 USD). The update is free of charge for existing users.
An AUv3 version for iPad is coming soon.
More information: Klevgrand