Harrison has announced the release of version 3.1 of its Mixbus DAW software after a stunning debut at the recent NAMM show in Anaheim, CA.
Ben Loftis, Mixbus product manager, commented "Version 3.1 is another big step for Mixbus, but we are just getting started. Users will see more and more innovative Harrison ideas in future versions. We are thrilled that so many users are adding Mixbus to their list of production tools, even if they currently own a different DAW. They are transferring their completed tracks to Mixbus for final mixing because of its great sound, ease of use, analog console paradigm, and ability to build a great mix quickly."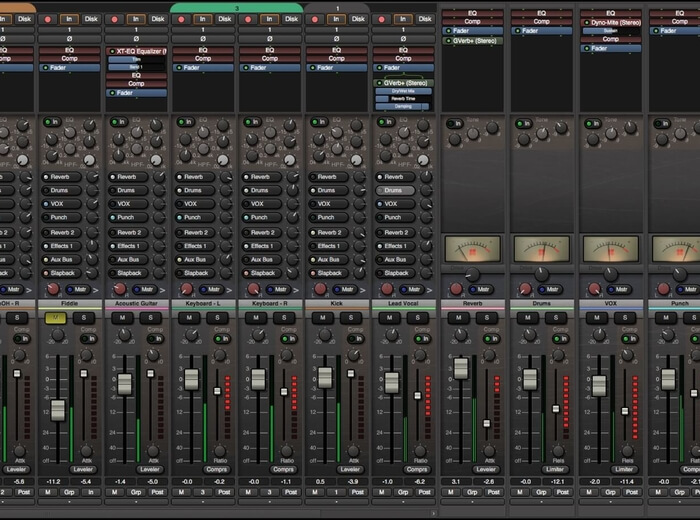 Changes in Mixbus v3.1
Support for three types of external hardware control surfaces.

Generic MIDI devices can use "MIDI Learn" to assign MIDI controls directly to on-screen knobs or use MIDI profiles to select many pre-configured device layouts from a pull-down menu, with more to come.
Mackie control protocol is provided for motorized fader controllers, and the Mackie protocols have been extended to ergonomically control the Mixbus channelstrip EQ, compressor, and 8 mixbus sends. Dedicated support is provided for popular devices like the Presonus Faderport, Mackie MCU, and Behringer X-Touch controllers.
OSC (Open Source Control) protocol supports ethernet-based wireless tablet controllers such as TouchOSC and Lemur for iOS and Android to remote-control Mixbus.

Mixbus v3.1 now allows more user control over the interface look&feel, with the ability to scale the channelstrips to match your monitor size, from the smallest laptop screen to the largest desktop monitors. Many new visual options have also been added, allowing the user to adjust the Mixbus screen to their own preference.
A new "Favorite Plugins" sidebar feature provides a list of your favorite plugin settings in a convenient list that can be dragged into your tracks. You can also choose multiple tracks and apply a plugin to the entire selection. Plugins can be added pre-fader or post-fader on every track. When you find your favorite settings for a plugin, just drag the plugin into the favorites list with all the presets maintained. Plugin management has never been easier!
Mixbus v3.1 contains an expanded monitor section that allows you to add plugins for room correction and/or metering in the listening path (i.e. room eq/correction), without affecting the master bus output. The monitor section can also be shown or hidden directly from the master bus.
Mixbus 3.1 is available for purchase for $79 USD.
More information: Harrison Consoles / Mixbus