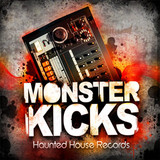 Haunted House Records has released Monster Kicks, a collection of kick drum samples.
There are so many kick drum packs around. But none like this genre-wrecking, bass-bin bruising collection of Monster Kicks – 164 beastly analogue and digital kick drums custom made to provide massive punch in techno, trance, DnB, house and industrial productions.

With so much choice in the one-shot kick market, esteemed sound designer Stephen Haunts has bought his expertise in original sound creation, toy-mangling and box-bending to build a whole new palette of low-end cone-melters that will find fans in a range of genres looking for sounds that guarantee both originality and pant-pulsing satisfaction.

You won't find any tired hits sampled from old disco tunes here. These bruisers are built from the ground up using an array of mangled hardware and reprogrammed software to deliver a near-illegal amount of low-end.
Monster Kicks features
164 High quality kick drum hits.
All sounds supplied in 24bit 44Khz Wav files.
Suitable for all types of electronic music including house, techno, drum and bass and industrial.
Monster Kicks is available to purchase through Sounds To Sample for £12.99 GBP. A pack of 10 kick drum demo sounds is available as a free download.
More information: Haunted House Records