Hagai Davidoff of HD Instruments has announced the release of his new performance tool for Native Instruments Kontakt.
ZoneMatrix enables you to play multiple sample libraries simultaneously by organizing them into powerful performance multis.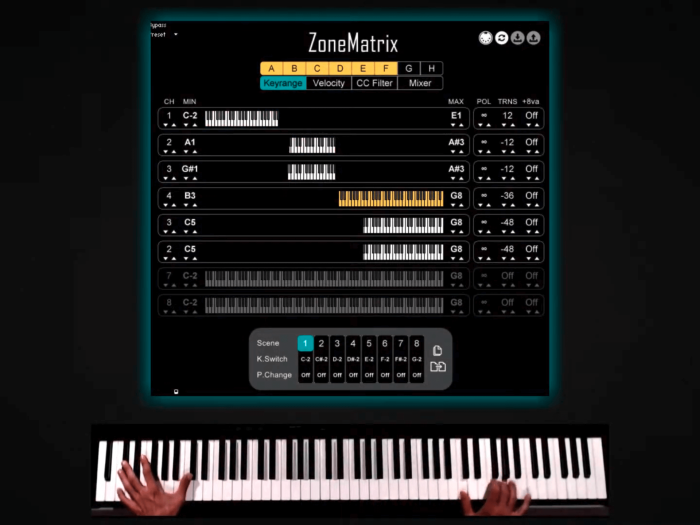 As a composer and performer, David wanted to take Kontakt to the stage and make all the great sample libraries that are out there more playable and flexible to use during the composition process and live performance.
Create, Control and Play Kontakt like never before! Build multis on the fly and perform anything from trios, quartets to fully blown orchestras!
ZoneMatrix features
Trigger multiple instruments simultaneously across different key and velocity ranges.
Transpose instruments on the fly to create chords/intervals/textures.
Use the Octaver to play massive chords and melodies.
Set fixed velocity values or shift velocity around.
Zone dependent Polyphony Limiter.
Fine tune your MIDI control using the built in CC Filter.
Mix your multi with the built in MIDI learnable mixer.
Use 8 different independent, key switched scenes for the ultimate performance.
Extensive MIDI Learn functionality and Hotkeys for ultimate workflow.
Used inside a DAW, ZoneMatrix can be used to control other VST instruments.
ZoneMatrix presets for swift recall.
ZoneMatrix is available for the full version of Kontakt at an introductory price of $50 USD until November 14th, 2020 (regular $80 USD).
A bundle of all three Matrix family members (ZoneMatrix, NoteMatrix 2, and CCMatrix) is on sale for $100 USD during the promotion.
More information: HD Instruments