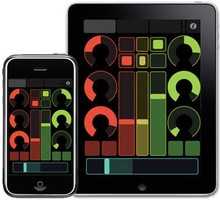 Hexler has released version 1.6.3 of TouchOSC, an iPhone/iPod Touch/iPad application that lets you send and receive Open Sound Control messages over a Wi-Fi network using the UDP protocol.
You can now use the USB cable and iTunes File Sharing to transfer layouts from/to the device.

In iTunes select your device in the column to the left, switch to the tab labeled "Apps" and below the App management screen you'll find the File Sharing section with a list of apps that support it, which now also includes TouchOSC.
Changes in TouchOSC v1.6.3
Support for iTunes File Sharing: Layouts can now be managed via the USB-cable connection using iTunes.
Basic multi-tasking support.
Multiple controls with the same custom OSC address now receive the same message.
ControlPush and ControlToggle now turn on for any received value greater than zero.
Added z message sending to all controls.
Fixed a bug where it wasn't possible to enter a custom editor host address.
Various minor bug fixes.
New icon.
TouchOSC for iOS 3.1.3 or later is available to purchase for $4.99 USD.
More information: Hexler