HISS and a ROAR has announced the release of Slime Vocals, a sound library featuring a collection of vocal samples.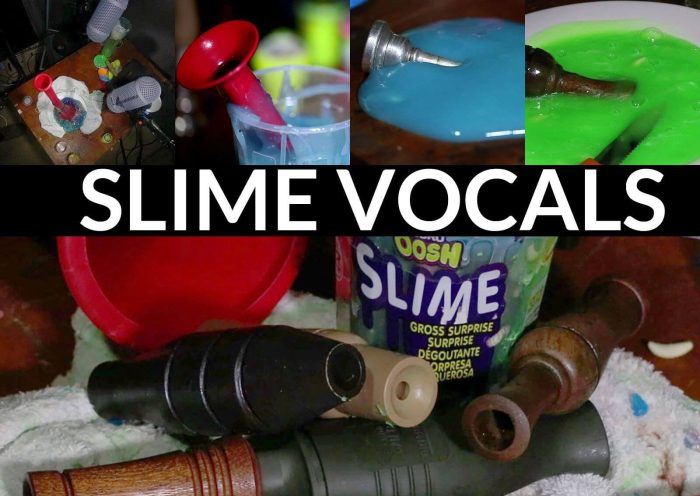 The pack includes a total of 419 stereo .WAV files with metadata and photos.
One of the 'skills' I learned during COVID19 lockdown was how to gargle slime in a vuvuzela! Will I be adding that to my CV? Perhaps not… A while ago I saw a video of someone making cute/strange vocals using slime and it got me thinking: how to use such techniques to create deeper vocalisations. Three litres of slime, a weird array of props and many weeks of research, practice and recording during lockdown has led to this library.

Apart from slime and breath, the key techniques that slowly developed are based on performing using a range of vocal resonators, specifically three duck callers, a hog caller, a vuvuzela and an array of hoses, a tuba mouthpiece and gaffer tape. After studying predator calling techniques at the University of Youtube, further experimentation led to extended techniques combining elements: what would the hog caller sound like joined on to half the vuvuzela, filled with slime? The answer sounds strange… And bits of it are still stuck to my studio ceiling!

Check out the MAKING OF Video to appreciate the range of these new creature vocals. Captured 24bit 192kHz dual mono (MKH8050 close and MKH8020 wider) SLIME VOCALS is an invaluable addition to your creature vocal resources. I also captured some gross slime movement for lip smacks, throat, mouth and mandible movement. Gross! And bizzare fun for a virtual 10 year old!
Slime Vocals is on sale at 50% off during HISS and a ROAR's 10th birthday sale, priced $49.05 USD.
More information: HISS and a ROAR