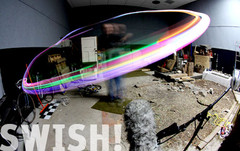 HISS and a ROAR has released Swish, a new sample library of swishes.
The english dictionary defines SWISH as a verb: 'to audibly cut the air' and in hindsight that's a perfectly evocative definition, as we've spent many hours in the foley room at Park Road Post recently, cutting the beautifully quiet air within, with every kind of object imaginable…

From stock whips to skipping ropes, extention cords to curtain rail wire, vacuum cleaner hoses to straw brooms. We've revolved mesh bowls, badminton rackets, pipes, whistles, lunging whips and many forms of prepared bamboo sticks, all with the aim of recording air being sliced!
Swish is available to purchase in three packages:
SWISH MAX: $49 USD – 24bit 96kHz, 2,840 sounds, 1.1GB download
SWISH MID: $29 USD – 24bit 48kHz, 470 sounds, 97MB download
SWISH LITE: $9 USD – 16 bit 44.1kHz, 235 sounds, 25MB download
All libraries are provided as a collection of stereo .WAV files, carefully labelled & tagged with Metadata compatible with the ProTools workspace, SoundMiner, Basehead, Snapper and AudioFinder sound library software.
A free pack of samples (16 bit 44.1kHz, 47 sounds, 5MB download) is available to download from the product page.
More information: HISS and a ROAR / Swish